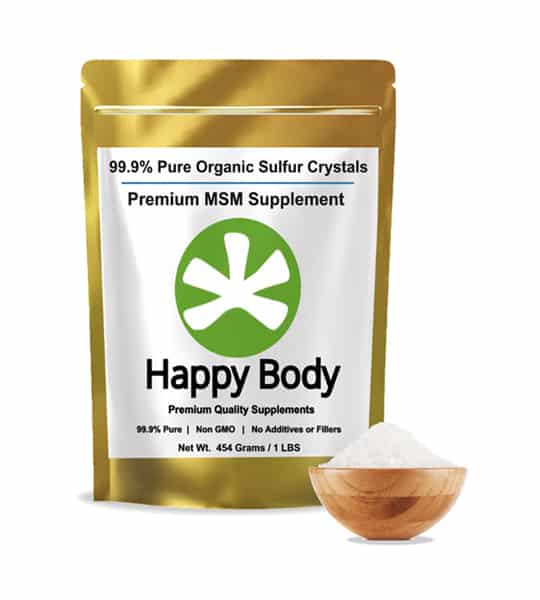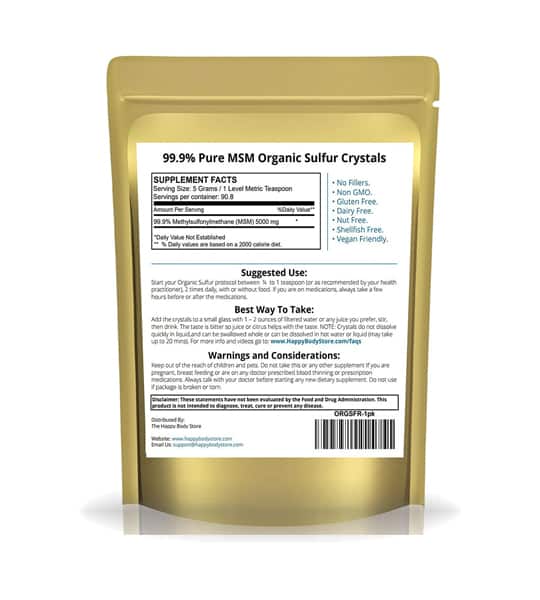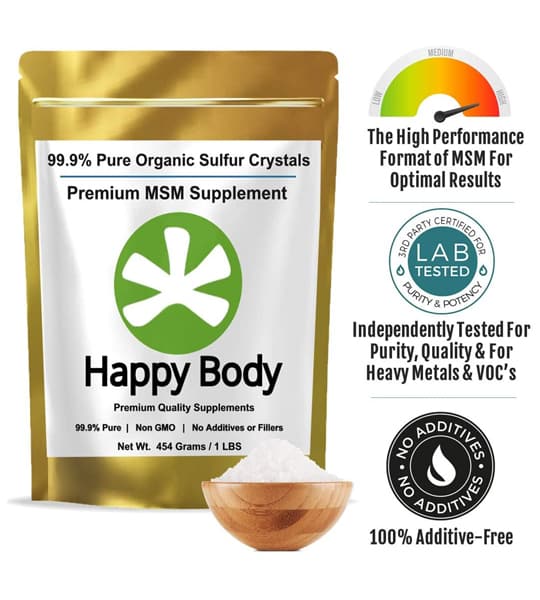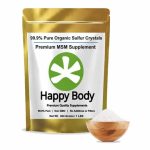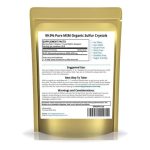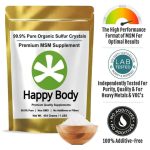 Happy Body – Pure Ognaic Sulfur Crystals (454g)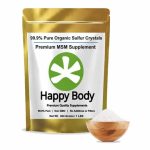 Happy Body – Pure Ognaic Sulfur Crystals (454g)
$42.99
$42.99
Healthy Pain & Inflammation Response.
Joint Health & Maintenance.
Optimal Detoxification & Digestive Function.
Optimized Oxygen & Nutrient Transfer.
Healthy Immune & Cellular Function.
Improved Hair, Skin & Nail Appearance.
Description
Brand
Customer Reviews
Description
ORGANIC SULFUR CRYSTALS 99% PURE MSM CRYSTALS PREMIUM MSM SUPPLEMENT 1 LBS
About Happy Body Organic Sulfur
Organic Sulfur is pure, true, high-performance MSM, that's 100% additive-free.
Organic Sulfur is vital for the body, joints, muscles, cells, skin & hair and much more.
Crystals provide optimal potency & absorption versus other forms of MSM. (See our Comparison Chart).
Happy Body Organic Sulfur Crystals are premium, 99.9% pure MSM at minimum. ZERO fillers. ZERO additives. ZERO binders. ZERO anti-Flow agents
Superior absorption, potency & value for your money.
Every single batch is independently 3rd party lab certified for purity, quality, heavy metals & VOC's.
Don't pay more for larger crystals, as long as the crystals are pure, size does NOT impact quality, strength or absorption.
Satisfaction Is 100% Guaranteed!
*These statements have not been evaluated by the FDA. This product is not intended to diagnose, cure, treat, or prevent any disease.
PREMIUM QUALITY: Organic Sulfur Crystals Are Pure, High-Performance, Additive-Free MSM That Are Minimum of 99.9% Pure. The True, Premium Organo-Sulfur Supplement
CERTIFIED PURITY: A minimum of 99.9% Pure MSM. ZERO Fillers. ZERO Additives. ZERO Binders. Every Batch Is 3rd-Party, Independent Lab Certified For Premium Quality & Purity. Also Tested For Heavy Metals & VOC's. Manufactured In an FDA Registered Facility. Naturally Gluten & GMO Free, Vegan Friendly.
EXCELLENT VALUE: Provides an Avg. of 500% – 2000% More MSM Per Serving Than In Most Pills Powders Or Joint Formulations. Each Bag Provides 45 – 90 Days of Supply / 90.8 metric teaspoon servings per bag.
EASY TO USE: Simply Take a 1/4 to 1/2 Teaspoon To Start – Or As Directed By Your Health Practitioner – Morning And Night With A Little Water Or Juice.
100% SATISFACTION GUARANTEED. It can help, or return it for a full refund – Simple. **Don't Pay Up To 30% More For "Larger Crystals". All MSM Crystals That Are Pure & Additive-Free Provide Similar Strength & Absorption – So Why Pay More For Larger Crystals That Just Take Longer To Dissolve?
width: 6.5 x height: 1 x length: 9.5 x weight: 1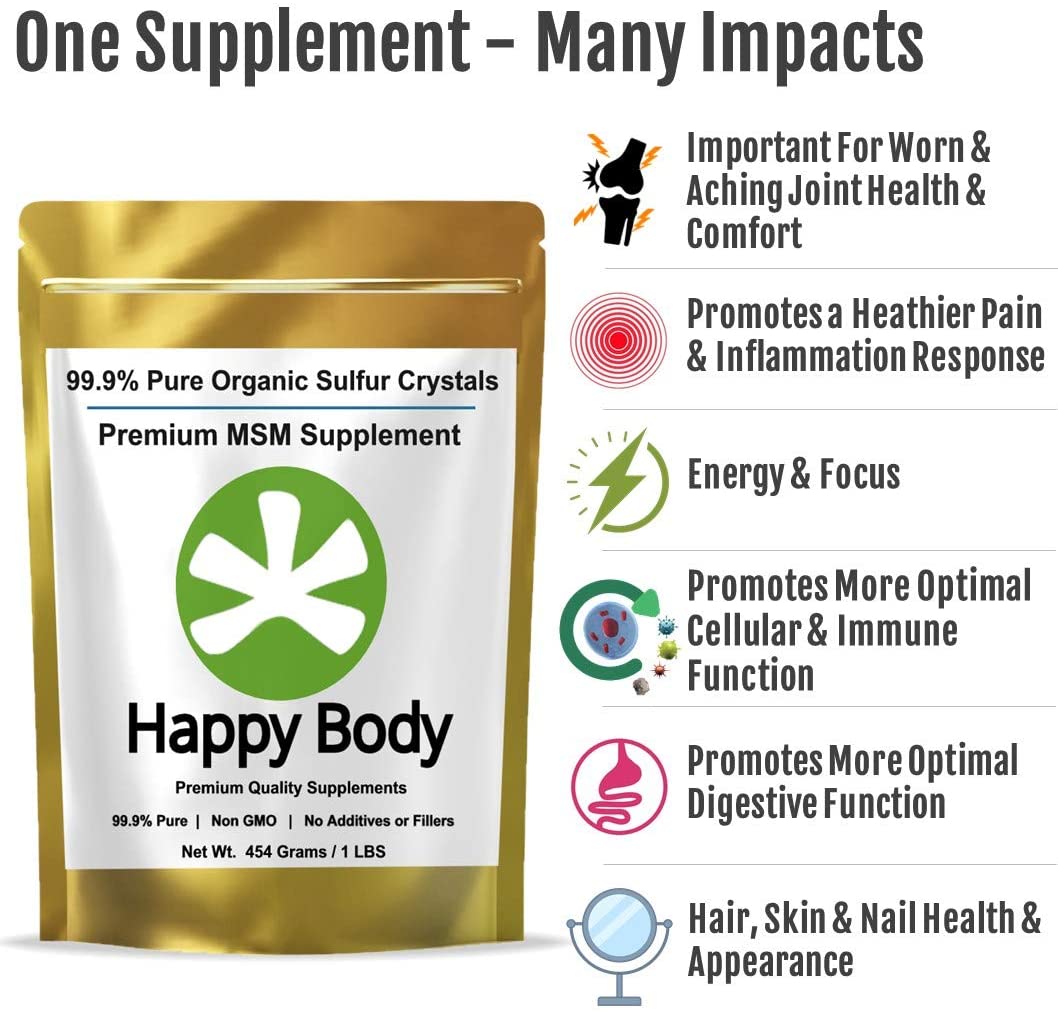 Brand
Happy Body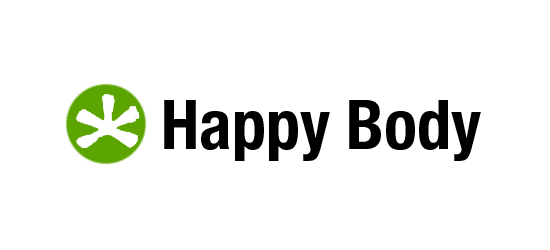 ---
Only logged in customers who have purchased this product may leave a review.