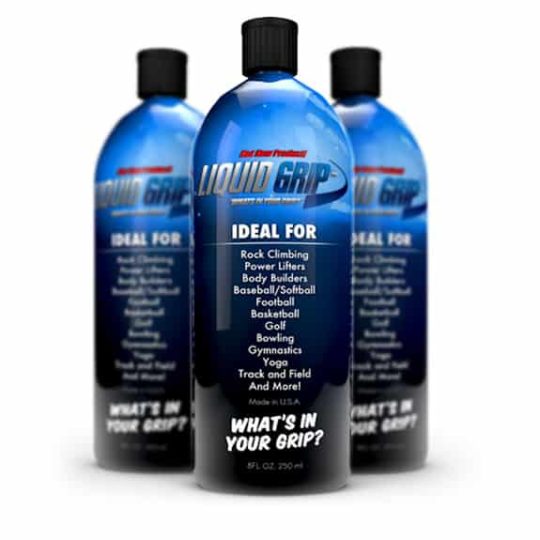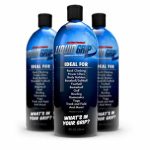 Liquid Grip 8oz Bottle (236 ml)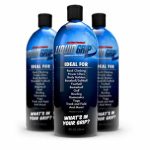 Liquid Grip 8oz Bottle (236 ml)
$42.99
$42.99
Liquid chalk is a versatile, useful tool for athletes who want to improve their gripping strength. Liquid chalk does not make a mess and it lasts longer than any other product.
 No Mess: Liquid chalk does not leave behind any residue or "chalk icing" nor does it cause chalky clouds to form when applied.
 Long-Lasting: A single application of a quality brand like Liquid Grip will last an hour and a half before it begins to degrade.
 Dries Quickly: The alcohol evaporates rapidly, which means you're ready to go in seconds!
 All-Natural: The fluid formula does not contain any harsh chemicals, so liquid chalk is safe for most people to use.
 Better for You: No dust clouds means no chalk and rosin in your eyes and lungs.
 Dry and Tacky: The best brands keep hands dry and also provide a slight tackiness for grip.
 Convenient: It's much easier to carry around a small carabiner bottle of liquid chalk than a block or bag of chalk.
 Efficient: You'll have 90 minutes of use without interruptions so you can focus on your sport like a pro.
 High Quality: Home recipes or making your own chalk paste is fine for a while, but nothing compares to the "whole package" quality of liquid hand chalk.
Description
Brand
Customer Reviews
Description
How Liquid Grip Works
First of all, let's quickly run through what Liquid Grip is and how it works because of the fact that it is still quite a new product that some people might not have heard of. Some of the main ingredients contained in Liquid Grip include magnesium carbonate, alcohol, fragrance and a thickening agent. It is a water based substance that contains hydrocellulose thickening properties that enables the rosin and chalk to be able to effectively mix together.
When the user applies it, the liquid chalk dries within seconds of being rubbed into your palms and leaves you with an almost rough, syrup-like feeling on your hands which is great and many users of this product love this particular aspect. It makes gives them the sense that their grip will actually be improved as it binds itself to what's known as the fatty acids on your hands and this enables your grip to be enhanced without causing any of the mess that the normal white chalk provides.
How is Liquid Grip Beneficial for Bodybuilders?
Chalk and bodybuilders have always been something that has been a part of the sport over the years. This is because of the fact that when it comes to them trying to lift heavier weight than what their grip allows them for, but other muscles can handle, they need things to give them a helping hand. One of these things are known as straps and simply involves the user to wrap the strap around the bar so that it is connected to the wrap around their wrist. But sometimes this just is not enough and this is where chalk comes into play. Chalk improves the grip strength even further by creating an increased amount of friction between the palms and the bar, if used along with the straps, the users grip strength will improve dramatically.
Advantages of Liquid Grip for a Bodybuilder
Bodybuilders across the world have found that using this liquid grip instead of various other forms of chalk has proved to be more favourable. One of the heftiest reasons for this includes the fact that once you apply this liquid grip to your hands and rub it in, you will not have to reapply it for up to another 90 minutes. This is pretty much ideal for a bodybuilder because of the fact that when they are training, they do not want to be in the gym for too long, otherwise catabolism may set in. If you did not already know, a bodybuilder want to try and be anabolic as much of the time as possible, whilst keeping their catabolic levels low, although there are times for that but they are very limited. This is so that they put themselves in the best position possible to be able to build muscle.
Therefore being in the gym and not training for too long will ensure maximum anabolism and minimum catabolism and liquid grip would entice them not to train for too long of a time. If they go into the gym and think about when they first applied it, to when they start to feel their grip starting to fade, then they know that it is about time to start wrapping up the session.
New Technology
Bodybuilders who train will of course be sweating throughout the workout and this may actually put some people off from using any type of chalk due to the fact that sweat and normal chalk do not mix well. Therefore they would be having to be constantly applying the regular white chalk again and again, but using Liquid Grip enables users to only overcome this issue, but they can actually benefit from it.
When the liquid chalk is applied to the hands, it dries within a matter of seconds and sticks to you under any circumstance (until you want to wash it off), even when you are sweating. So bodybuilders who sweat whilst training will not be adversely affected by having a weaker grip, in fact, the more they sweat, the more effective the product becomes as the strong binding agent within the liquid become stronger once the person is sweating. It can also be easily and quickly washed off by just washing your hands with warm water and soap and you leave absolutely no mess in the gym.
So liquid chalk and bodybuilders are something that should be a perfect match, users on our testimonial page (some are bodybuilders) have also confirmed this, so do not just take our word for it.
For a smaller pack: Liquid Gel 45ml
Brand
Liquid Grip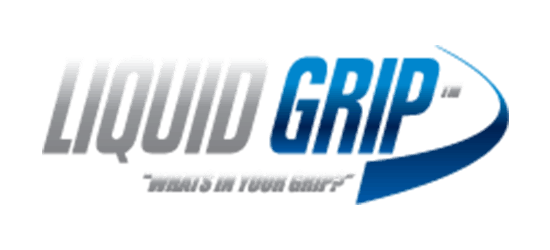 ---
Only logged in customers who have purchased this product may leave a review.