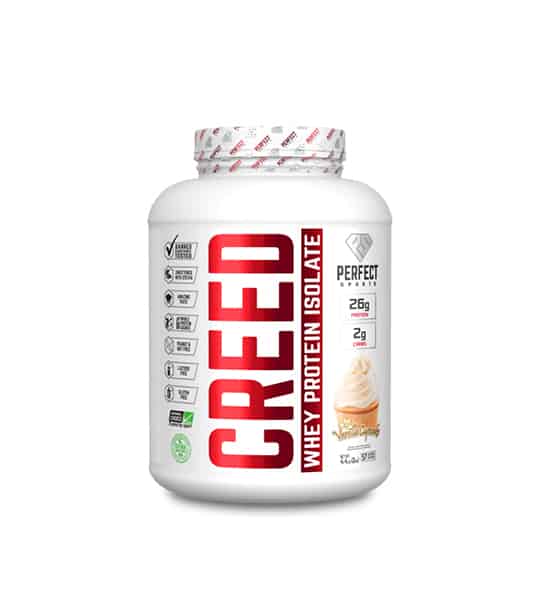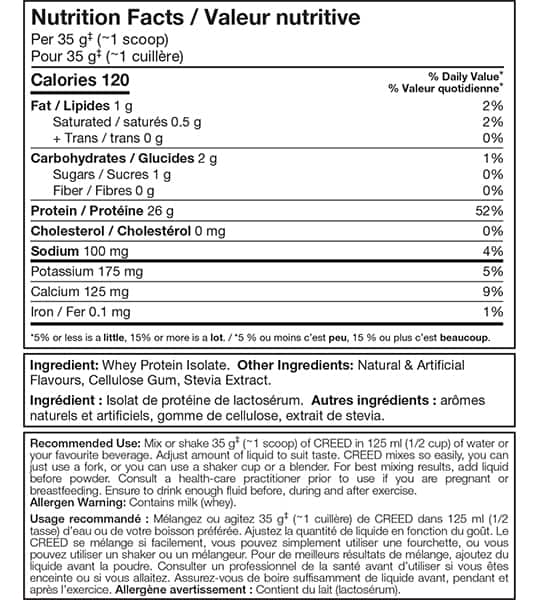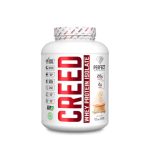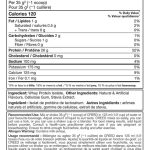 Perfect Sports – Creed Whey Isolate (4.4 lbs)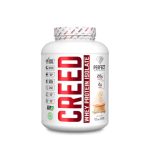 Perfect Sports – Creed Whey Isolate (4.4 lbs)
$94.99
$94.99
26g of Pure Protein in Every Serving!
Sweetened Exclusively with Stevia extract
3rd-Party Tested for WADA Banned Substances
Lactose-Free & Gluten-Free
Description
Brand
Additional information
Customer Reviews
Description
CREED Whey Protein Isolate
Each serving of CREED Whey Protein Isolate provides 26 g Protein, 2 g Carbs and only 1 g of Fat – all this and 
more

 from a protein with an exclusive 100% whey protein isolate source.

This level of exceptional protein quality doesn't come at the expense of flavour. CREED tastes absolutely amazing and is well known for its absolutely amazing flavours.
UNDENATURED PROTEIN = MORE PROTEIN!
To ensure a higher yield, the protein found in CREED is processed at 4° Celsius. This purification process helps ensure that the protein and bioactive whey fractions in the formula stay intact.
These bioactive whey fractions have their own unique biological properties to help support muscle repair and growth, digestive health, immunity, liver function and overall health.
The Whey Fraction graphic below shows you that the protein you're getting has not been denatured by heat, enzymes or acids and is easily assimilated by the body. If a protein has been subjected to harsh chemicals, excessive heat or enzymes, these whey fractions will not be present in the protein.
FULL SPECTRUM AMINO ACID PROFILE
With 26 g of amino acids (the naturally occurring components of protein), 12 g of the Essential Amino Acids (EAAs) including a full 6 g of the Branched Chain Amino Acids (BCAAs), and 4.5 grams of glutamine/glutamic acid, CREED offers a favourable array of growth promoting and energy providing amino acids.
Having a complete, full-spectrum of all of the Essential, Branched and Conditionally Essential Amino Acids provides your body will ALL of the nutrients it needs to recover and grow. This is not true of other incomplete plant sources. The fact is that the whey protein isolate found in CREED is easy for the body to absorb and has a rapid absorption that is unmatched in the world of protein.
CREED is sweetened exclusively with Stevia, a natural sugar substitute. Best of all, you don't need to give up taste for the ultimate in protein performance! CREED outperforms other proteins that still use artificial sweeteners like Sucralose or Ace-K (acesulfame potassium).
Using a protein that is sweetened exclusively with Stevia extract gives you that extra peace of mind. Those following a protein-rich keto diet often look for proteins that contain only stevia out of concern that artificial sweeteners may raise blood sugar levels.
CREED can be taken any time of the day (e.g., in the morning, as part of a meal-replacement shake, post-workout, as a midday snack, or when you need a protein fix). Simply mix one full scoop (30g) in 125ml (1/2 cup) of water or milk and watch CREED dissolve instantly.
Brand
Perfect Sports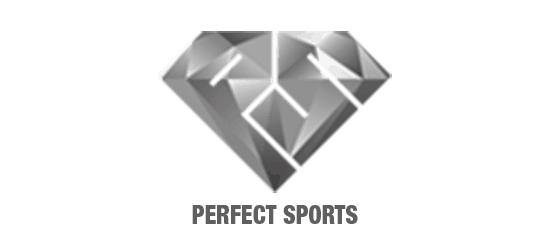 Additional information
| | |
| --- | --- |
| flavour | Cocoa Caramel, Maple Waffle, Vanilla Cupcake, Triple Chocolate |
---
Only logged in customers who have purchased this product may leave a review.