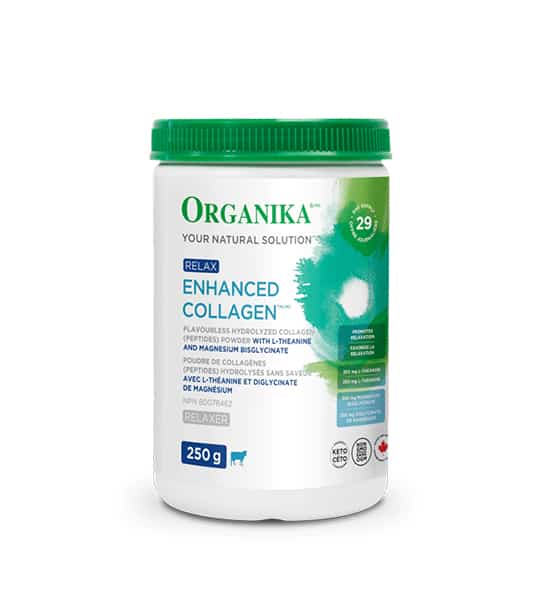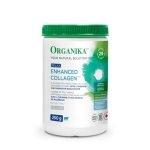 Organika – Enhanced Relax Collagen (250g)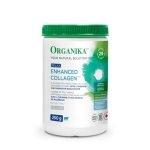 Organika – Enhanced Relax Collagen (250g)
$36.99
$36.99
Promotes relaxation without drowsiness
Supports cognitive health 
Improves sleep quality
Revitalizes, firms, and smooths skin
Strengthens hair and nails
Helps maintain healthy joints
Description
Brand
Customer Reviews
Description
Organika Relaxed Enhanced Collagen benefits of the Original with Magnesium Bisglycinate, and L-theanine.
Type 1 & 3 hydrolyzed Collagen
Sourced from grass-fed, pasture-raised cows
Free from all hormones and antibiotics
8 g of protein per serving
Suitable for keto diets
Learn more about the soothing blend that makes up Enhanced Collagen Relax in "The Science" below!
HOW TO USE
Mix into your favourite hot or cold drinks
Add to smoothies, cooking, or baking
Completely flavourless and odourless
Enhanced Collagen Relax is a one-of-a-kind blend combining stress-relieving magnesium bisglycinate and L-theanine with amino acid-rich collagen, benefitting not only your external features (hair, skin, nails) but also your digestion, immunity and overall health.
Magnesium bisglycinate is a form of the mineral magnesium which is bound to the amino acid glycine for higher bioavailability. It has been shown to have a wide array of benefits, including a calming effect on the brain, better sleep, bone health support, and blood sugar control, among others.
L-Theanine is an amino acid that naturally occurs in the tea plant. When taken in sufficient quantity, it has the ability to promote relaxation and reduce stress. Studies show that L-theanine produces calming effects in the brain without causing drowsiness. It may help to improve mental focus, brain function, learning and concentration.
Collagen is the most plentiful form of protein in your body, and acts like the "glue" that holds it together. With age, collagen formation declines naturally, leading to a loss of elasticity, strength, and tone throughout the body. Organika's Enhanced Collagen Vitality helps address low collagen levels by providing you with peptides, the building blocks of collagen, contributing to many aspects of your overall health:
Skincare: collagen increases the elasticity and moisture in your skin, and also helps reduce UVB damage and signs of photoaging
Joint and bone health: helps maintain healthy cartilage in the joints, improving function and reducing symptoms of joint pain
Gut health: provides you with the amino acid glutamine, which is essential in supporting leaky gut symptoms
MEDICINAL INGREDIENT – EACH TABLESPOON CONTAINS:
Magnesium Bisglycinate 350 mg
L-Theanine 250 mg
Hydrolyzed Collagen (Peptides) (Bovine Skin) 8.5 g
Sourced from the hides of grass-fed, pasture-raised, hormone- and antibiotic-free American cattle.
NON-MEDICINAL INGREDIENTS:
None.
HOW TO USE Organika Relaxed Enhanced Collagen:
Mix 1 tablespoon (8.5 g) in half a cup or more of your favourite hot or cold drinks. Enhanced Collagen Relax is virtually tasteless and can be used in desserts, baking, smoothies and cooking as well.
Also available in handy travel-friendly sachets!
CAUTIONS: Consult a health care practitioner prior to use if you are pregnant or breastfeeding; have liver or kidney disease or if you have been instructed to follow a low protein diet. May cause mild gastrointestinal disturbances.
Brand
Organika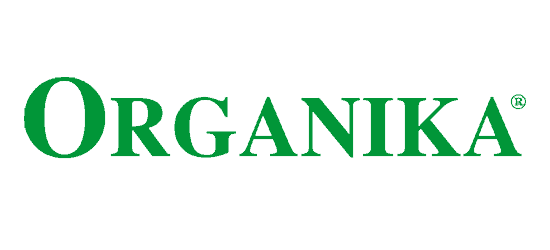 ---
Only logged in customers who have purchased this product may leave a review.