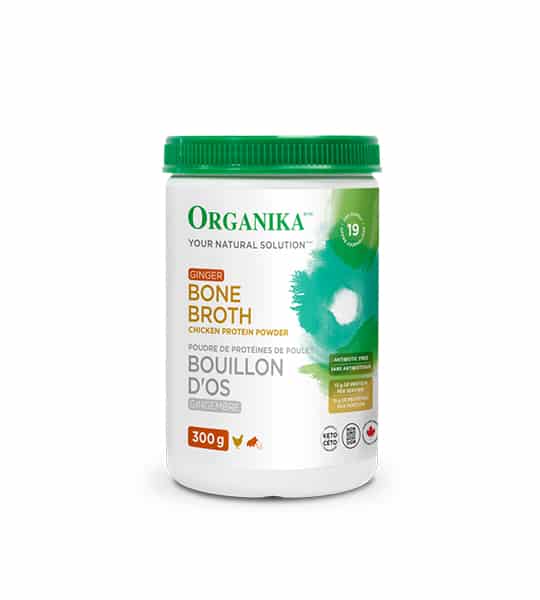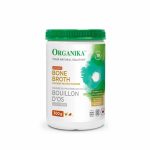 Organika – Ginger Bone Broth (300g)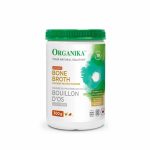 Organika – Ginger Bone Broth (300g)
$61.99
$61.99
Gut-healing
Supports bone and joint health 
Improves skin health
100% pure bone broth powder with ginger
Protein-rich: 15 g per portion!
Contains key minerals
From cage-free, organic grain-fed USA chickens
Free from hormones and antibiotics
Suitable for keto diets
Description
Brand
Customer Reviews
Description
Your broth, your way! Chicken Bone Broth Ginger powder is easy to use and packed full of nutrients that help keep your gut, joints and skin healthy. Ginger powder adds an aromatic touch and extra gut-healing goodness!
Bone broth is a highly nutritious type of stock made by simmering animal bones and connective tissues. It provides a variety of important health benefits, but making it at home is a time-consuming endeavour. Enter Organika's Bone Broth powder: the answer for the busy-yet-health-conscious!
Our Chicken Bone Broth is simmered 24-48 hours to extract as many nutrients as possible. This makes it extremely rich in:
Protein (13 g per serving)
Collagen and gelatin, which support joint, skin, and gut health
Glucosamine, hyaluronic acid and chondroitin, beneficial compounds for the reduction of inflammation and pain in the joints
Key minerals for the maintenance of bone health, such as calcium, magnesium, sodium, potassium and phosphorus
As a plus, ginger is traditionally known to be helpful for stomach and digestion issues.
A 100% pure and natural product free from additives such as emulsifiers and fillers, Organika Chicken Bone Broth is made from the bones of cage-free chickens fed with organic grain. It is tested for heavy metals and pesticides, and is free from all antibiotics and hormones.
Q: How much collagen is there in your bone broth?
A: The Chicken Bone broth has tested out at 92% Collagen through our laboratory tests.
Q: What type of collagen is in your Chicken Bone Broth?
A: All 3 main types of collagen are found in the Chicken Bone Broth, but the majority is Type II, benefitting joints and bones.
Q: Where is your chicken sourced from?
A: All chickens are non-GMO, antibiotic- and hormone-free chickens raised cage-free in the USA.
Q: Can I take Bone Broth and Enhanced Collagen together?
A: Taking Bone Broth and Enhanced Collagen together will not cause side effects, and can be beneficial for the purposes of consuming different collagen types.
However, if you do suffer from digestive disturbances or a sensitive digestive tract, start with small doses, and work your way up. Collagen is a protein, so over consumption means you will be getting extra calories from it. Bear in mind that collagen is not a complete protein, so it is not intended to replace a healthy diet nor should it be your only source of protein.
Q: What is the difference between Bone Broth and Enhanced Collagen?
A: In addition to collagen, Bone Broth naturally contains gelatin, hyaluronic acid, chondroitin sulphate, glucosamine, and various minerals. Chicken Bone Broth has a neutral flavour profile and can be taken with hot water or added to savoury recipes. Enhanced Collagen is a 100% hydrolyzed, flavourless collagen supplement.
INGREDIENT: Chicken Bone Broth, Ginger Root Powder
FREE FROM: Antibiotics, hormones, GMO ingredients, emulsifiers, and fillers.
HOW TO USE:
Mix 2 tbsp of the broth powder in 12 oz of hot water or use it in other applications like soups, broths, and cooking.
HOW TO USE
Enjoy a protein-rich, all-natural snack on the go! Simply add 12 oz hot water to 2 tbsp of Chicken Bone Broth.
Can be added to broths or other recipes for a savoury touch loaded with benefits!
Brand
Organika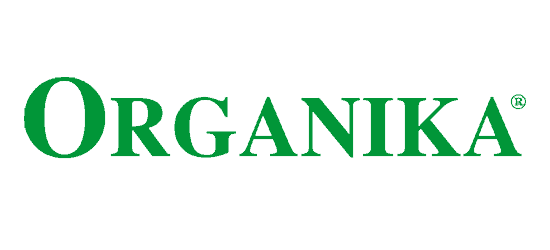 ---
Only logged in customers who have purchased this product may leave a review.