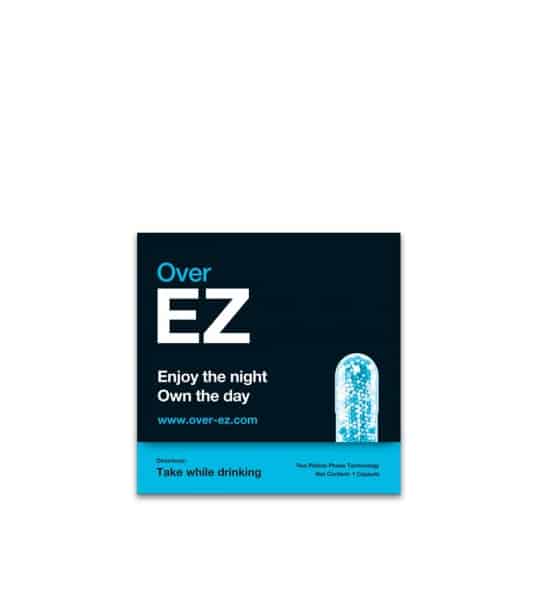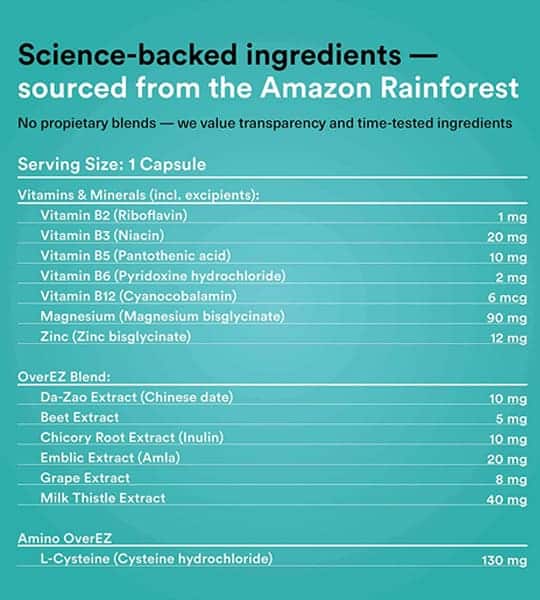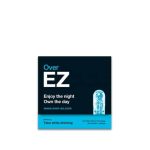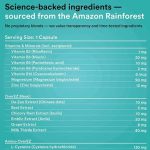 Over EZ – Hangover Preventative (1 serv)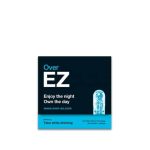 Over EZ – Hangover Preventative (1 serv)
$6.99
$6.99
A natural way to feel refreshed after a night of drinking.
100% all-natural pill that prevents hangover symptoms and replenishes vital nutrients
3 Phase recovery system
Liver Protection Phase: Blocks Hangovers at the source. Protects your liver by metabolizing alcohol faster.
Toxin Elimination Phase: Detoxifies your liver of the hangover-causing chemical acetaldehyde, so you have fewer hangover symptoms the next morning.
The Nutrient Replenishment Phase: Replenishes your body with essential vitamins and minerals that you lose while drinking.
Enriched with zinc, magnesium, B Complex, milk thistle, chicory root, amla extract, Chinese date, grape extract, and beet juice
Individually packaged in convenient travel packets
Health Canada approved and FDA Notified
Description
Customer Reviews
Description
L-Cysteine 130,00 mg


No more day-after hangovers. Wake up feeling refreshed.

OverEZ is a natural dietary supplement made with high-performance vitamins, minerals and herbs.

We all know the obvious causes of hangover symptoms: drinking too much, partying too hard, and not getting enough rest. But what actually causes a hangover?

When alcohol goes through your liver it produces the toxin acetaldehyde, which is the real culprit. OverEZ hangover pills help eliminate that toxin using 3 clinically-tested ingredients – milk thistle, Vitamin B1. B6, B12, and amino acids – to give you energy in the morning instead of being tired, cranky, and nauseous.

NATURAL HANGOVER HELPER: Over EZ Contains enough active ingredients in a single capsule to reduce your hangover symptoms. Designed to be taken with your first drink, our formula (Milk Thistle, L-Cysteine, Chicory Root, Vitamin Bs and more essential Minerals, Vitamins, Amino Acids and Herbs) helps eliminate hangover-inducing toxins like Acetaldehyde, protect your liver from harm and replenish your body of nutrients lost while drinking – this way you can wake up feeling productive.

SUPPORTS THE BREAKDOWN OF TOXINS: So you experience less hangover symptoms, such as nausea, headaches, lack of focus, and more. Unlike other hangover helpers like electrolyte powder, activated charcoal, dihydromyricetin or the hangover patch Over EZ contains natural ingredients and provides a full body reset to keep you moving at full force the next day. Wake up refreshed and tackle the next day with boundless energy.

LIVER DETOX: Over EZ protects and cleanses your liver of toxins with Milk Thistle, Amla Extract, Beet Root Powder and Amino Acids. It does so by producing enzymes in your liver that work to offset acetaldehyde, a major hangover-causing toxin. It also contains anti-oxidants to protect your body and promote healthy circulation.

ENERGY RECHARGE: Over EZ multivitamin helps boost your energy and immune system with anti-oxidants from chicory root and beet juice, minerals from Magnesium and Zinc and Vitamin B Complex (B2, B3, B5, B6, and B12). These vitamins are on a time release and act over several hours reducing headaches and sluggishness the following day.

PROTECTS YOUR LIVER: Make your morning after drinking easy with our combination of liver and digestive powerups — like Milk Thistle and Chicory root — at effective doses, to help you conquer the day… or at least breakfast. This hangover pill is perfect for bachelorette parties, party favors and hangover kits. Save it for mid-week drinks, birthdays, vacations, open bar events or your best friend's bachelor party. It will also save you at work the next day.

Feel good about what you put in your body with our natural ingredients

A powerful flowering herb native to the Mediterranean region. Its active ingredient Silymarin optimizes the liver's detoxifying and cleansing capabilities and acts as an anti-inflammatory for the body.

The era of waking up sluggish and drained after a night of drinking is over. Over EZ Hangover Pill takes advantage of the three phase recovery system to give your body everything it needs to bounce back. First, it protects your liver by helping to metabolize alcohol. Then it detoxifies the liver to decrease hangover symptoms. Finally, it replenishes your body with the essential vitamins and minerals lost while drinking, so you can have a pain free morning.

Product Details

Colors

Clear

Materials

Vegeterian Capsule

Origin

Brazil

— Drug-Free
— Vegan
— All Natural
— Sustainably Sourced

What are the ingredients used in OverEZ Hangover Pill?

The ingredients in OverEZ are all natural and are as follows:
Ingredients

Vitamins and Minerals:
Vitamin B2 (Riboflavin) 1,70 mg
Vitamin B3 (Niacine) 20,00 mg
Vitamin B5 10,00 mg
Vitamin B6 2,00 mg
Vitamin B12 6 mcg
Magnesium 90,00 mg
Zinc 12,00 mg

Proprietary Blend: 

Da-Zao (Jujube) Extract (fruit) (Chinese date) 10,00 mg
Beet (Beta vulgaris) Extract (root) 5,00 mg
Chicory root extract (inulin) 10,00 mg
Emblic (Amla) Extract (fruit) 20,00 mg
Grape Extract (seed) 8,00 mg
Milk Thistle Extract (Seed) 40,00 mg

Amino Acids: 
---
Only logged in customers who have purchased this product may leave a review.