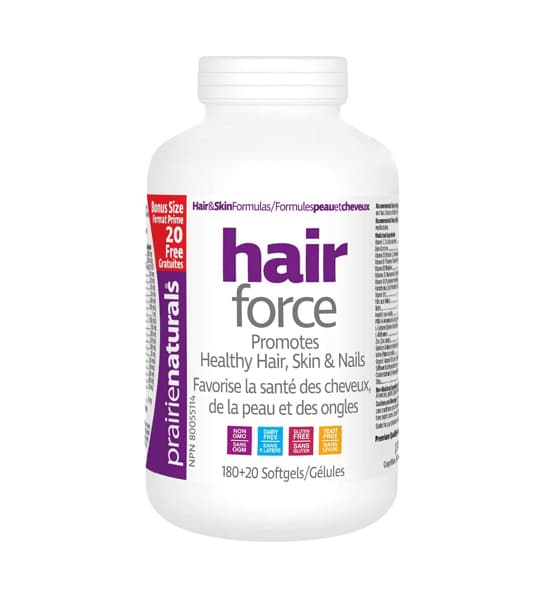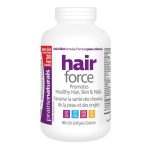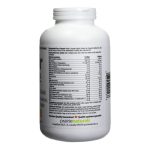 Prairie Naturals – Hair Force (200 Softgels)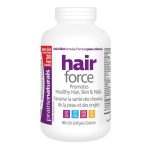 Prairie Naturals – Hair Force (200 Softgels)
$65.99
$65.99
Effective blend of 22 vitamins, minerals & herbs
Restores, repairs & nourishes hair
Stimulates hair growth
Minimizes hair loss
Combats environmental factors related to hair loss
Reduces stress
Supports hormonal balance
Description
Brand
Customer Reviews
Description
Prairie Naturals Hair Force
Love Your Hair! Create beautiful, healthy hair from within. Prairie Naturals Hair-Force synergistically combines 22 natural nutrients recognized for their role in restoring, healing and nourishing hair.* Now you can stimulate maximum growth of the hair follicle while minimizing hair loss.* The combined effect of these vitamins, minerals and nutrient co-factors directly counteracts the hair-damaging negatives caused by stress, illness, hormonal imbalances and other health and environmental concerns.*
PRAIRIE NATURALS HAIR-FORCE offers support for fine, thinning hair or non-specific hair loss.* This effective nutritional formulation combines Biotin (helps metabolize scalp oils), B-complex vitamins (works in combination with the Biotin for maximum effectiveness) and L-Cysteine (an amino acid that may prevent free radical damage to hair follicles) with important minerals to improve the health and beauty of hair.*
Benefits 
Complete complex of nutrients to support hair health and reduce falling or thin hair.*
With iodine to support low thyroid (a common cause of hair loss).*
Contains essential fats to reduce dry hair.*
Optimum dose B complex needed to boost hair health.*
With active sulfur containing amino acids to boost collagen production in the hair.*
Recommended use: 1 to 3 softgels daily with meals or as directed by a health professional.*
*Disclaimer
These statements have not been evaluated by Health Canada or the FDA. This product is not intended to diagnose, treat, cure, or prevent any disease.
Nutrition Facts
Serving Size:  Per 3 Softgels
Servings per Container: 200

Amount Per Serving

Vitamins:
Vitamin C
 400 mg
Vitamin A (Beta Carotene)
9999 IU
Vitamin D
210 IU
Vitamin B-1
30 mg
Vitamin B-2
30 mg
Vitamin B-3 (Non flush niacinimide)
  45 mg
Vitamin B-6
30 mg
Vitamin B-5
500 mg
Vitamin B-12
99 mcg
Folic Acid
1 mg
Paba
200 mg
Biotin
1500 mcg
Minerals: 
Iodine (potassium iodide)
1 mg
Selenium (chelate)
198 mcg
Zinc (citrate)
30 mg
Nutrients: 
L-Cysteine
200 mg
L-Methionine
200 mg
Flax seed oil (organic)
600 mg
Safflower oil
600 mg
Lecithin (soy)
60 mg

* Percent daily values are based on a 2000 calorie diet
† Daily Value not established
Note: Serving Sizes are rounded to the nearest whole serving
Additional Ingredients: Capsule consists of purified water, glycerin and gelatin.
Allergy Information: Free of all common allergens, including: wheat, dairy, eggs, corn, and yeast.
Warning: Always read label. Use only as directed by health practitioner. Store in a cool, dry place. Keep out of reach of children. Keep in bottle.
Brand
Prairie Naturals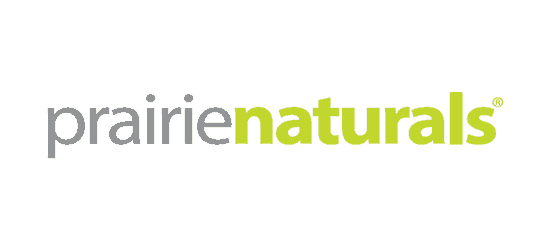 ---
Only logged in customers who have purchased this product may leave a review.